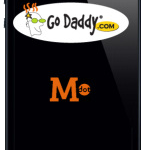 GoDaddy, the web-hosting and domain registration giant, is taking one more step into the world of mobile, and another into offering small businesses a one-stop shop for all of their online activities with a freemium sweetener. Today, it is announcing the acquisition of M.dot, a startup that has developed an iOS mobile app that lets users create mobile websites from the app itself. Financial terms of the deal were not officially disclosed, but we have heard that the sale was in cash and stock and could be worth anywhere from $5 million to $25 million, likely to be around $15 million — depending on GoDaddy's own IPO plans.
This is GoDaddy's first acquisition under its new CEO Blake Irving, who joined the company in December 2012, having previously held roles as chief product officer at Yahoo and a number of senior roles at Microsoft. The news was announced as GoDaddy opened up new offices in Sunnyvale.
Read more via GoDaddy Buys M.dot, A Mobile Website-Building App, To Push Its Mobile And Freemium Businesses | TechCrunch.