TC Green Media's Smart Mobile Website Solutions are developed primarily due to the rapid increase of mobile and tablet (iPad) users. Going to websites while using your smart phone can be a little difficult unless the site has either been formatted specifically for that device or your website is "Responsive".
There are a few ways to handle mobile devices

Smart logic: Redirect your visitors to a site optimized for the viewing device
"Adaptive" – A method used to strip away website elements as the screen shrinks. This method, in a way, is a precursor to using a fully responsive (RWD) website
"Resonpsive" or RWD Employs a "fluid" design in the development of the site. No need to strip elements as your complete website is easily viewable on all devices. This is the preferred method as your developer is not required to maintain two sites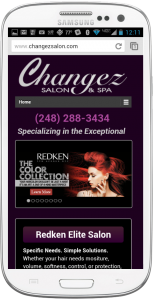 If you already have a website and simply want a mobile version
We recommend developing a simpler site in a sub-folder and using a little bit of JavaScript. Visitors using devices on the listed on the WURFL® (Wireless Universal Resource FiLe) database are then redirected to appropriate mobile version of your site. Some business have already made a large investment in promoting their existing domain through Search Engine Marketing techniques and usually prefer not to have to do this all over again for a new www.YourDomain.mobi domain. Before you invest in a new *.mobi domain give us a call to get your mobile site up and running. If you would like to learn more and for a free consultation on mobile website alternatives, give us a call or simply Contact TC Green Media.
If you are thinking about a new website
We highly recommend using a "mobile ready" responsive design in the development.
Go Mobile – Smart Mobile Web Development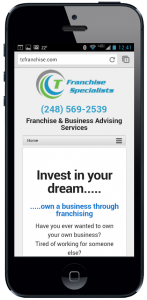 Benefits of having a mobile version of your site
Improved user experience

No need for the user to "pinch-open" to read your content

Absolutely no need for a *.mobi Domain

Your mobile website resides on your existing domain
Do not invest in a www.YourDomain.mobi domain

All three methods work perfectly on all devices

iPhone, Windows 7, BlackBerry, Android, Tablets and iPads

Take advantage of a free consultation on your mobile options by Contacting TC Green Media today